1
« on: October 31, 2017, 06:12:20 AM »
Hi everyone!
I am glad to introduce you
Sophia,
the master wizard girl on a mission to save the Empire from destruction and humanity from enslavement!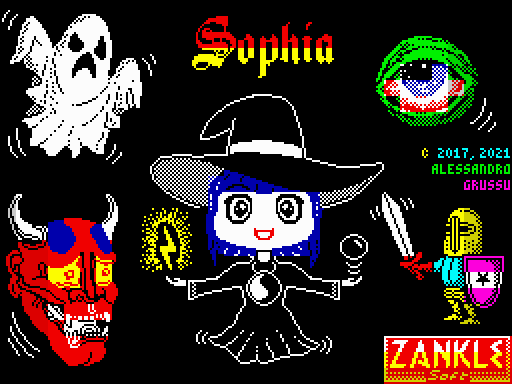 A brand new game for the ZX Spectrum inspired by such classic titles as Cybernoid, Equinox and Druid, with the following features:
- 4 levels
- 85 screens
- 20 different enemy sprites
- 5 tunes
- Final boss fight
- Successful end of game sequence
Game and printer-friendly documentation available in six languages: Italian, English, French, German, Spanish and Portuguese.
Designed for models with 128K RAM but can run (without AY sound) on 48K/+ ZX Spectrums equipped with Beta Disk/Plus D/DivIDE/DivMMC interfaces.
Controls: Keyboard (fully redefinable), Kempston, Sinclair.
File formats: TZX (accelerated with SetoLOAD), TAP, TRD, SCL and MGT.
Freely downloadable from:
http://www.alessandrogrussu.it/Sophia.html
Have fun!